Our items for sale include:
Household furniture, clothing for all seasons, shoes, children's toys, school supplies, kitchen items, etc.
We will gladly accept donations of gently used items during normal hours of operation. For pick-up of furniture or other large items, call (708) 965-8181 to schedule an appointment.
The Thrift Store is located at the west end of the
"Our Daily Bread" Pantry building
(Click here for location map and directions)
Hours of operation:
(Open Fridays and Saturdays 9:00 AM -- 12:00 Noon)
Volunteers are always welcome at the Thrift store!
Volunteers can earn community service hours, while having fun with other volunteers.
If interested in volunteering, call 708-965-8181 – Leave a message for Sherry.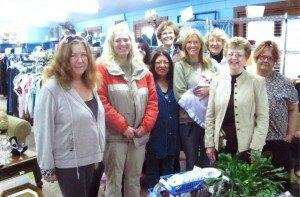 Friends Of The Thrift Store